Toolbox Group's real estate management and tenant engagement technology, Mallcomm, has received one of the retail real estate industry's highest accolades – the Sceptre award for Mall Technology Innovation of the Year.  
More than 500 of the sector's talent gathered for the ceremony on 20 June at London's Marriott Grosvenor Hotel.  Mallcomm was one of four innovations shortlisted for the award that recognises the best in class practices and people.  It beat off competition from varying types of technology, as a solution that makes a major difference to efficiency and value in real estate.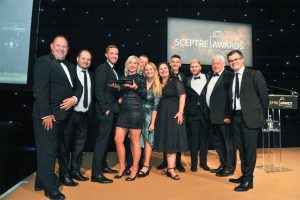 The Sceptre is the third accolade Mallcomm has received for innovation, performance and credentials, joining a Digital Entrepreneur and Appster award in the technology's prize lineup. 
Toolbox Group's CEO and Founder, Michelle Buxton, says:  "Real estate technology is a fast growing sector but it is also becoming more mature. Mallcomm has been making a difference for owners of real estate for over four years, with an unrivalled track record and rapidly-growing number of users.  We are delighted it has been recognised by the industry with this award for excellence."   
Mallcomm continues to develop and last year it was launched in the USA, claiming iconic destinations Mall of America and Westfield World Trade Center as two if its growing list of customers.  
A futher development is Mallcomm's application in other real estate classes.  Early this year it was adopted by AMF Fastigheter in Sweden to engage and improve experience for office, co-working, leisure and retail tenants in its cutting-edge neighbourhoods.   
Toolbox Group's Ellie Pimbley was also named runner-up of the Young Achiever of the Year Award for her outstanding achievements.  Ellie is a key member of the marketing services team, providing innovative marketing solutions to support shopping centres around the UK.