UNIBAIL-RODAMCO-WESTFIELD, US
The Client
Unibail-Rodamco-Westfield, US
Overview
Unibail-Rodamco-Westfield (URW) is the premier global developer and operator of flagship destinations. With the support of their 2,900 professionals and an unparalleled track-record and know-how, they are ideally positioned to generate superior value and develop world-class projects. 
Objectives
Following the successful adoption of the Connect, powered by Mallcomm, within EMEA, URW US was looking to create a tenant portal to both centralize and standardize tenant communications, update tenants with relevant property specific information, and streamline the work request process.
Solution
URW US extended their Mallcomm platform, Connect, to a total of 23 properties by the end of 2020. URW also added the Sales Collection and Advanced Critical Comms modules to help improve their sales collection processes and refine their security and incident procedures.
The addition of these modules has allowed the property management teams to collect retailer sales data on a monthly, weekly and daily basis. It has also enabled them to create their own sales campaigns to collect specific data over a holiday period. These additions have also given URW the power to manage situations whether they are onsite or remote and has provided them with the tools to communicate more effectively with security teams to simplify everyday challenges.
Key Statistics as of March 2022:
22,370 App Users
94.2% Total Tenant Adoption
4,375 Registered Tenants
230 Content Items
4.8 Average Users Per Unit
24 Centers
Testimonial
"Communication with our retailers, whether updating shopping center hours or sending emergency notifications, is critical to our business, and URW Connect powered by Mallcomm provides us with the ability to reach our business partners very quickly. It has changed the way we engage with our retailers in a very positive way." – Jeff Adams, VP Guest Experience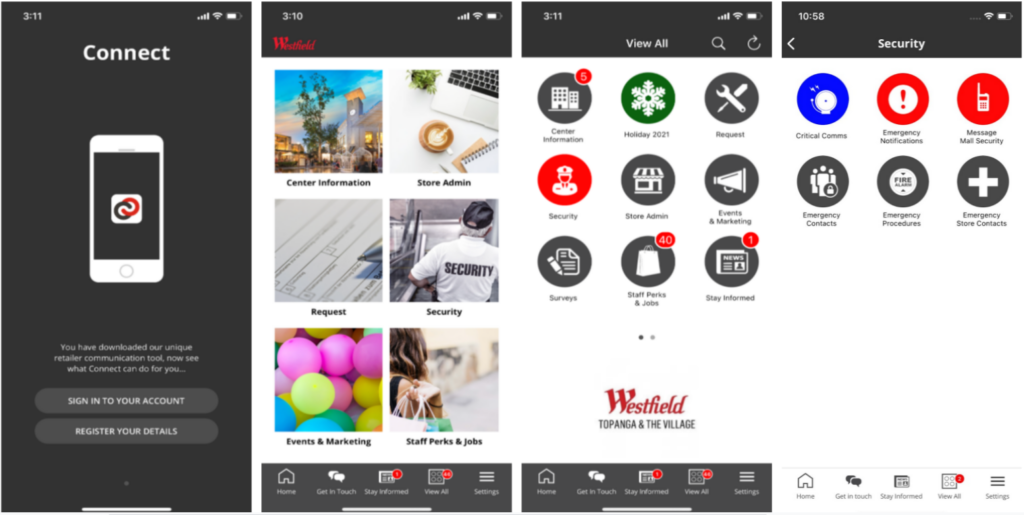 Want to learn more about what Mallcomm can do for your properties? Request a demo today.