Working in partnership with Liverpool ONE, Mallcomm created a bespoke platform which has not only positively impacted the retail destination, but an entire city.
Chaired by the Place Strategy Director at Liverpool ONE, the 'Destination Marketing' project for the Liverpool City Region (LCR) centres on the pulling power of Liverpool while also developing the regional markets. It is delivered across six workstreams one of which is 'Destination Welcome.' This focuses on initiatives which enhance information for visitors and encourages them to travel within the city centre and beyond. 
When Liverpool played host to Eurovision in May 2023, 'Destination Welcome' had never been more important. There was a huge opportunity to engage visitors and inspire them with targeted information to ensure they had the best Eurovision experience. In doing so, this would also encourage visitors to visit Liverpool ONE and explore the wider region.
The Mallcomm Solution
The use of technology was a critical component in Destination Welcome, leading to Liverpool ONE joining forces with Mallcomm to develop a bespoke Eurovision app. 
Having designed and built the 'My One' app for Liverpool ONE, which provides the latest news, events, offers and competitions for more than 170 shops, restaurants, bars and entertainment venues, we could mobilise quickly.
Working in partnership with Liverpool ONE, a 'VisitLiverpool' app was launched two weeks before Eurovision began. 
Cost-effective and environmentally sustainable, the app was specifically designed to enhance engagement, digitally highlighting all the activities and events taking place around the event period.
The app promoted essential information on the EuroFestival and Eurovision Village, as well as all the Eurovision themed events taking place across the city from 1-14 May 2023. Information on tourist attractions and food and drink venues were added to the platform to drive footfall. 
To provide extra support for visitors exploring the region during the two-week period, integrated Google Maps and transport information for all travel options could also be accessed.
Furthermore, the app allowed notifications to be sent to users with important updates about events and travel information. To further enhance engagement, the app enabled visitors to ask for advice and support from the host city.
In line with the visitor dispersal strategy, information on the surrounding regions was incorporated too, including popular things to see and visit.
Impact and results
From 1 – 31 May 2023, the app attracted 7,444 users and generated 38,930 views. 
The app's versatility and ability to engage the community has also seen it evolve into the destination app for LCR. This means it will continue to be used to help engage and inform all those who visit Liverpool and the surrounding regions.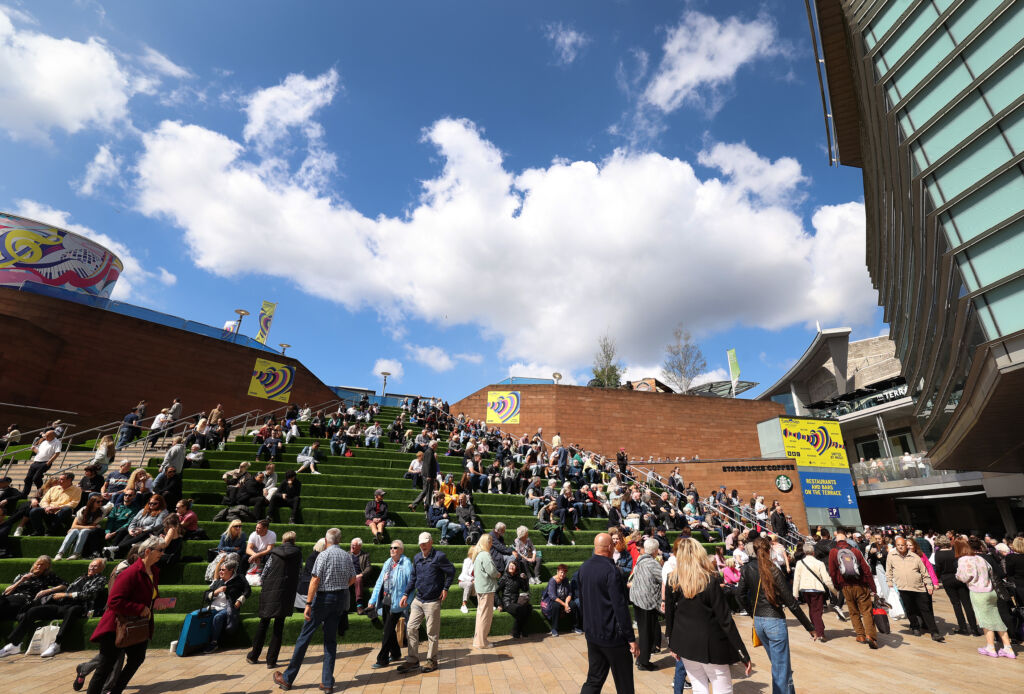 "Having realised the benefits of the Liverpool ONE app in giving our visitors easy access to news and information, we wanted to give visitors to the city the same opportunity over Eurovision.
"Our partnership with Mallcomm created a brand new app which was the go-to place to find information about what people could enjoy. It provided quick and easy access to what was going on and when. This not only ensured both locals and visitors could plan their Eurovision experience right across the city, but that all local businesses could benefit.
"The whole city rose to the occasion, creating a welcome like no other, and Liverpool ONE was proud to have played its part."
-Donna Howitt, Place Strategy Director at Liverpool ONE
If you would like to discover how Mallcomm can support your community engagement, click the button below to talk to our team